Urethroplasty: Pee Like Any Other Guy
Total Phalloplasty Stage 2
Total Phalloplasty surgery Stage Two (urethroplasty) takes 3-4 hours of surgery, three months or more after the first stage during which a large, healthy penis was created by tissue re-engineering.
That is also when Step One of Stage Two was done. Step Two is done during Stage Two.

You stay 2-3 nights in hospital and about one week in Belgrade, Central Serbia.
It is possible to opt-out of Stages Two and Three although that would not be standard and changes the way the surgery is done. You must (should) decide your plan and requirements before starting Stage One.

It is possible to change your plan later but it will substantially increase your costs and increase the number of stages to at least four.
Urethroplasty by Dr Djinovic works well. No need to compromise and do without.
No need to fret and worry about complications.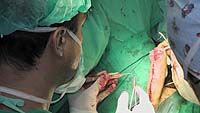 No need to abandon hope and disqualify yourself because you've heard so many tales of woe about urethroplasty done by other surgeons around the world.
You can have a penis that works just like that of any other guy — true point-and-shoot capability, not merely the ability to urinate standing.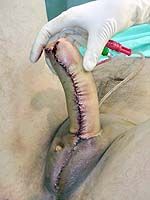 No need to ride a urinal like a horse because of a tiny penis. No need to sit to pee.
Unlike the attempts at urethroplasty done by most other surgeons, Dr Djinovic can extend a neo-urethra to the tip (glans) of the 5, 6, 7, 8, 9 or 10-inch neophallus without fistula, stricture or stenosis.
Since 2012, specially prepared ordinary skin is now used instead of buccal mucosa.

The procedure has become so advanced that complications of the neo-urethra are extremely rare and unusual.
Any that occur are corrected during the patient's next visit to Belgrade.
next: Total Phalloplasty Stage 3