Best Penis Enlargement Surgery 1999-2014
Overview of Procedure
Sava Perovic penis enlargement surgery enabled you to change your normal penis size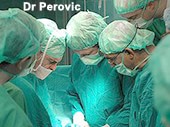 This penile surgery did NOT result in the largest penis in the world but it did allow significant enlargement.
The two keys to achieving a satisfactory outcome was always to choose a high quality procedure and have realistic expectations.
This procedure was among the most effective and best penis enlargement phalloplasty with clearly superior surgical results. For many years it was the best option available.
These articles about this surgery are now only for historical reference.
An international, multi-hospital study of 204 men over five years showed, the aesthetic and functional RANGE of results of tissue engineering for penile girth enhancement are excellent.

This article about that published study contains many penis enlargement facts with a number of penis augmentation pictures, including penis enlargement before and after phalloplasty results photos as well as measurable penile enhancements.
Does penile enlargement surgery work?
Certainly and safely — if done by a Sava Perovic Foundation surgeon using tissue engineering.
This penis enlargement surgery was long the best penile lengthening and penile augmentation choice when considering how to enlarge your penis.
Other techniques to enlarge male genitals often caused severe deformities and many other problems.

Penile "enlargement" often but not always includes both lengthening and widening procedures.
Sava Perovic Foundation uses
ligamentolysis for penile lengthening which results in penile lengthening in flaccid state.

In obese patients, Dr Djinovic can also do "wet" liposuction of the pubic region, as well as penile skin reconstruction where indicated in order to expose, and in that way lengthen, the penis in flaccid state.

Autologous tissue culture is used for only penile widening, not lengthening. The results are permanent.

Only girth enhancement can be done for about 14% less than both procedures.

Dr Djinovic believes there is no good and reliable technique for glans enhancement currently available but a 20% size increase (not 200%) is offered by Dr Kim in South Korea, one of the original pioneers of tissue engineering for penile girth enhancement with Professor Perovic. Since 2015, Dr Kim's primary method of girth enhancement is now MegaFill by injection.

Years ago, tissue needed to be collected from the scrotum and grown for 3-5 weeks prior to surgery.

The surgeons now uses a newer and better technique that gets equally good results.

It requires no tissue culturing in a laboratory, only implantation of the PLGA scaffolds treated in the patient's own serum.

And scaffolds are now available one millimeter thicker.

The patient comes one day before surgery to give 100 ml of blood for the process.

The Sava Perovic Foundation has done more then 400 cases of penile enlargement using PLGA scaffolds and this technique but stopped keeping score about 2008.

Post-operative complications occur in about 3% of patients.

Complications resulting from the procedure itself are minor and all are treated without the need for more surgery.

Complications caused by the patient disregarding the surgeon's prescribed post-op physiotherapy, such as sex too soon, can be more substantial.

After about 2008, almost all complications were totally unrelated to the surgery and all because the patients went home and soon started having lots of sex before the advised period of healing.

Some experienced visually frightening swelling, some inflammation, one man burst a stitch, and all had delayed healing and a delayed final permanent result.

But when they stopped having so much sex and kept the incisions clean and dry they healed well without need for surgical intervention.

However, one patient who got a cheap, discount version of this surgery, NOT by Sava Perovic Foundation, promptly had such severe complications upon returning home that he needed emergency surgery in London by specialists to take out all the scaffolds.

Half a dozen surgeons around the world managed to do this procedure many hundreds of times without such disastrous results but it shows it is possible for a Grade B surgeon to get it very, very wrong.

Patients who also get liposuction need to remain 5-6 days for aftercare but only one night if no liposuction is done.

Sava Perovic Foundation's all-inclusive package price in Belgrade compares favorably with the fees of other surgeons using significantly less effective and much riskier procedures but charging US$9,850 to US$11,350 and in some cases up to US$15,000 with disastrous results and no remedy despite being done in the USA by very well-known surgeons with excellent marketing.

Patients who want the best penis enlargement surgery anywhere on the planet should submit a medical history and photos of their penis in flaccid and erect states along with penile measurements of current length and girth.

This report for non-medical persons is a review of the international penis enlargement surgery study by Sava Perovic (SV Perovic) and others published in "European Urology" Volume 49 (2006), pp 139-147.

Note that not all participants were Professor Perovic's personal patients who get consistently and substantially superior results with rare complications and exceptional patient satisfaction.

Highlights of the publication include:
81% of patients scored the surgical intervention as ''excellent'' and ''very good'';
1.9 to 4.1 cm increase in penis girth;
up to 4 cm increase for majority of patients;
71% of patients satisfied with new erect penile girth;
penile enlargement surgery caused no penile shortening;
autologous tissue engineering used biodegradable scaffolds;
can be repeated after one year to gain additional girth;
29.8% of patients had previously failed penis enlargement attempts by other doctors;
only 40–95 minutes of surgery;
hospital stay (average = 2.11 days);
erectile function and penile sensitivity undiminished by enlargement;
patients resumed sexual activity 4–6 weeks after surgery;
autologous tissue engineering allows uncircumcised patients to keep their foreskin intact;
remarkable safety, reproducibility, superior cosmetic results, low morbidity and low incidence of post-operative complications; and
infections developed in only 3.6% of patients, all treatable.
Introduction
Following the increased popularity of female cosmetic surgery, genital modification surgery has successfully evolved during the past decade.
Simultaneously, penile lengthening and widening gained tremendous interest among men worldwide.
Considerable improvement of penile aesthetic appearance and size is now possible although this surgery remains a challenge, requiring strict attention to details and meticulous techniques.
The most common method previously employed for penile girth extension by doctors worldwide was lipofilling but with disappointing outcomes.
True enlargement of the corporeal body could be achieved by autologous tunica albuginea grafting with a saphenous vein.
Wrapping the penile circumference outside Buck's fascia with autologous dermal-fat grafts to obtain gain in penile girth was also reported.
Possible complications included temporary or permanent penile shortening, penile deformities, graft lost and unsightly donor site scars.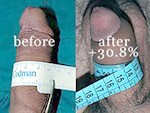 Synthetic materials like injectable materials (hydrogel) were used with moderate results.
Starting in 2008, despite FDA warnings, AlloDerm® began being vigorously promoted for penis enlargement by many American doctors.
All men who have suffered a bad result using Alloderm can have Dr Djinovic remove and correct the problem and give you safe, permanent enhancement using tissue engineering at the same time.
The study evaluated indications, feasibility, operating time, aesthetic and functional results and complications of autologous ex-vivo tissue engineering for penile girth enhancement (PGE). next: Details of Trials